A luxurious 11-seat space where you can enjoy the cuisine of the Ryotei casually
A counter where you can casually enjoy the luxurious cuisine of the Ryotei while watching the cook work wonders before your eyes.
Please enjoy the reserved space for groups of 6 to 11 people.

Dinner
A chef's-choice multi-course meal proudly prepared with in-season foodstuffs and including broiled items as well as fried. A menu of a la carte dishes to be found only at Kawabun. Curried udon noodles or tai chazuke as an accompaniment to rice wine. Sweets to end with. You can look forward to the widely varied bill of fare unique to the "counter kappo" style of dining.


現在、カウンター河内屋は休業をしております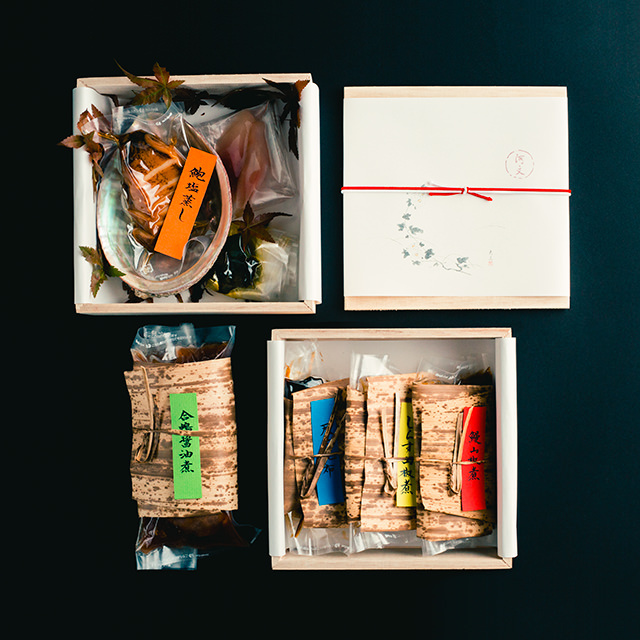 Gifts
We offer a wide variety of items, such as assortments of young sardines (shirasu) braised with sansho pepper, Heavenly Kelp, eel braised with sansho pepper, crossbred duck in soy sauce, and abalone steamed with salt. There are also seasonal baked goods, as well as special sake (rice wine). All make gifts of distinction fit for distinguished recipients, whether on festive occasions or solemn ones.
​
Hours of Operation
Kawachiya
Lunchtime 11:30 a.m. – 2:00 p.m. (last order)
Closed on Sundays (except when Monday is a holiday)
現在、カウンター河内屋は休業をしております
Dress code
There is no established dress code. Please dress as you normally would for the occasion.
Please refrain from coming to our shop with shorts, sandals, and athletic shoes.
Use by minors
Minors are allowed only in private rooms.​ ​
We provide child's chairs and appropriate food for children.
Please let us know your needs when you make a reservation.
Address
Aichi prefecture Nagoya city Naka-ku Marunouchi 2 - chome 12-19 Kawanema
Google Map
052-222-0873
(水曜日を除く平日 10:00~19:00)
(土日祝日 10:00~16:00)
Hours of operation, menus, and prices may vary with the season.